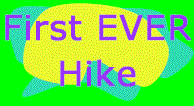 Due to bad weather, an amazingly buzy leader team and the whole Christmas thingy, we didnt get our first hike under way til after the New Year.
As it was the first hike most of the scouts had ever gone on, we went for an easy comfortable hike up to the Three Rock Mountain.
The wannabe scouts were quite disappointed when they headed into Marlay Park saying "its too easy", but they quickly changed their minds once they started walking up the extremely steep climb up to the back of Kilmashouge (spelling?) car park!
Halfway through the hike we stopped for lunch. It lasted for about an hour and some of the kids reeeeeally put it to good use (you should have seen the amount of food some of the scouts brought!) After lunch we played a game of manhunt, and with some clever strategy, the leaders managed to catch everyone. After the scouts boasted they could do better, the leaders disappeared into the forest only to stroll out when the time was up, unscathed and unchased. Dont worry, the kids will learn with time!
Then we headed further on up the track and then back home to the scout den, with great timing.
Unfortunately there are no images for this hike